WELCOME BACK! We're glad to see you back on campus and in person!
EQUIPMENT RESERVATIONS
Hours: Monday – Friday, 9 a.m. to 4 p.m.
The Media Center space is open Monday – Friday for study and computer use.
To reserve equipment, stop by in person, write to: media.center@as.ucsb.edu, or call (805) 893-5422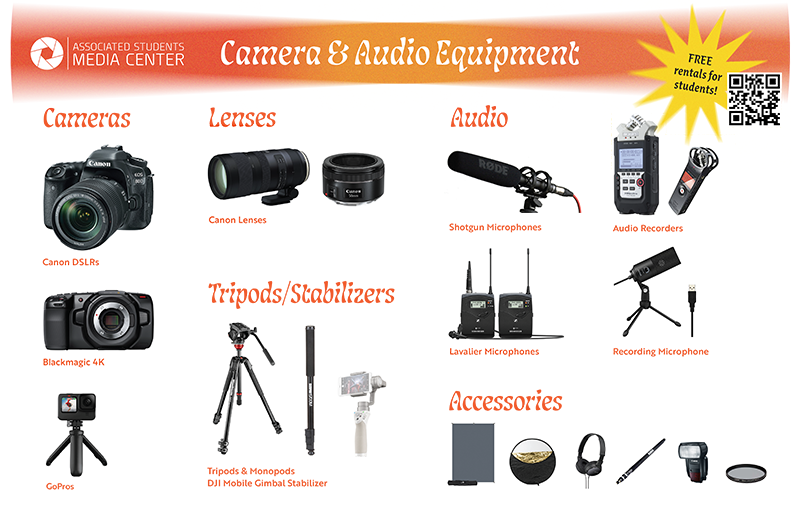 "The AS Media Center has helped me grow as a photographer as well as an individual. My frequent visits to pick up, return, and reserve equipment have expanded my interest in visual arts. It is great to know that this state-of-the-art equipment is available for us students free of charge because it gives us the opportunity to learn and explore different interests outside of academics."

Pranati Shah, First Year Pre Biology
The A.S. Media Center is located in the AS Annex next to the Storke Tower bicycle circle. We have video, photography, and other media equipment available to check out by UCSB students with a valid Access Card.
The Media Center includes a studio space for portrait and video shoots and 4 iMac computer workspaces where you can complete your projects using graphic design, photo, video, and audio editing programs, including the full Adobe Creative Cloud, Final Cut Pro 7, and Audacity a free sound editing program. See below for details.
To check out equipment you will need your Access Card, which we will photocopy. Generally, the loan period is 3 working days (over the weekend, Friday-Tuesday at noon). Equipment must be checked in by noon the day it's due. This is a hard deadline! Because of high demand, it's strongly recommended that you reserve the equipment you need by emailing media.center@as.ucsb.edu, calling (805) 893-5422, or visiting in person. Your BARC account will be charged for any lost or broken equipment.
Cameras (cameras include battery and SD card)
For info on SD card ratings and applications click here.
Canon R7 kit with 18-150mm Lens
Canon R10 kit with 18-150mm Lens
3 Canon 80D kits with 18-135mm IS lens
Canon 80D kit with 18-55mm IS Lens
2 Canon 70D kits one with 18-135mm IS lens, one with 18-55mm IS lens
Canon Rebel T7i kit with 18-135mm IS lens
Canon 7D kit with 28-135mm IS lens
2 GoPro Hero 10 kits
GoPro selfie stick
Lenses (limit one lens per loan)
Canon Mount
Tamron AF 35mm 1.8 Di VC Canon mount: Ideal for portrait photography with blurred background aka bokeh. (Out for repair)
Tamron SP AF 90mm 2.8 Di Macro 1:1 USD Canon mount: Ideal for nature photography, including close-ups of flowers, insects, etc.
2 Tamron SP AF 24-70mm 2.8 Di VC USD G2 Canon mount: Great general-purpose lens with both wide angle and telephoto capabilities. For portraits, events, and low-light situations.
Tamron SP AF 70-200mm 2.8 Di VC USD G2: Go-to lens for wedding photographers, also suitable for nature photography, events, and low light situations. Does not have wide-angle capability.
2 Canon 50mm 1.8: Great low-cost portrait lens.
Canon 75-300 mm: Low cost lens. Works well for events and nature photography.
Canon 100-300mm:
Sigma 150-500mm f5-6.3 APO DG OS HSM: Telephoto zoom lens. Useful for sports, wildlife, and landscape photography with handheld shooting.
Accessories
PZ-E1 Power zoom adapter only for Canon 80D camera: For slow, smooth video zooming
Neutral density filter, 67mm
Polarizer filter (special loan, ask receptionist)
Sound Recording
Zoom H6 recorder kit with auxiliary microphones, including shotgun mic
YouTube Zoom H6 Tutorials:
https://www.youtube.com/watch?v=jok0-c9nNNE
https://www.youtube.com/watch?v=TquarIg90WY
Zoom H4 recorder
2 Zoom H1 recorders
Sennheiser wireless Lavalier microphone system
Røde VideoMic GO microphone
2 Røde NTG-2 shotgun mic with windscreen
Røde boom pole
25 ft XLR Cable
2 Audio-Technica ATH-M50x Headphones
Tripods and Stabilizers

3 Manfrotto professional video tripods with heads
1 Sunpack medium weight tripod
1 Campro medium weight tripod
1 Lightweight Vista tripod
2 Manfrotto monopods
Neewer handheld weighted video stabilizer
DJI-Osmo smartphone gimbal stabilizer (requires free DJI app on your smartphone)
Additional Gear
Westcott portable backdrop kit
2 Wescott 40″ circular reflector kits.
Here's how to get a circular reflector back in its bag: https://www.youtube.com/watch?v=YjlsP9KDjcs
Fold out portable backdrop (no stands)
Here's how to get a fold-out portable backdrop back into its bag: https://www.youtube.com/watch?v=hDDM8UyvE6k
Computers for use at Media Center
4 iMacs
2 LaCie Rugged 1 TB hard drives
Software
Adobe Creative Cloud, including Lightroom, PhotoShop, Illustrator, InDesign, Acrobat Pro, Premier, After Effects, and more. For a complete overview, click here. Note: Adobe offers a Lightroom/PhotoShop bundle for $9.99/mo and the entire Adobe Creative Cloud for students is $19.99/mo.
Final Cut Pro 7.0.3
iLife Suite 6.5, including Garage Band, iMovie, and iDVD
Microsoft Office 2016
GoPro Quick Editing Software
Audacity 2.04 sound editing software (this is freeware)
Video Monitor in Media Center
Sony 52" monitor, wall mounted for presentations
Portrait and Video Studio Space (training required)
Includes:
Still and video cameras
Lighting for portrait photography and videography
Tripods
Colored paper backdrops
Green screen
Save